BrightSTARS -- Tennis for Me!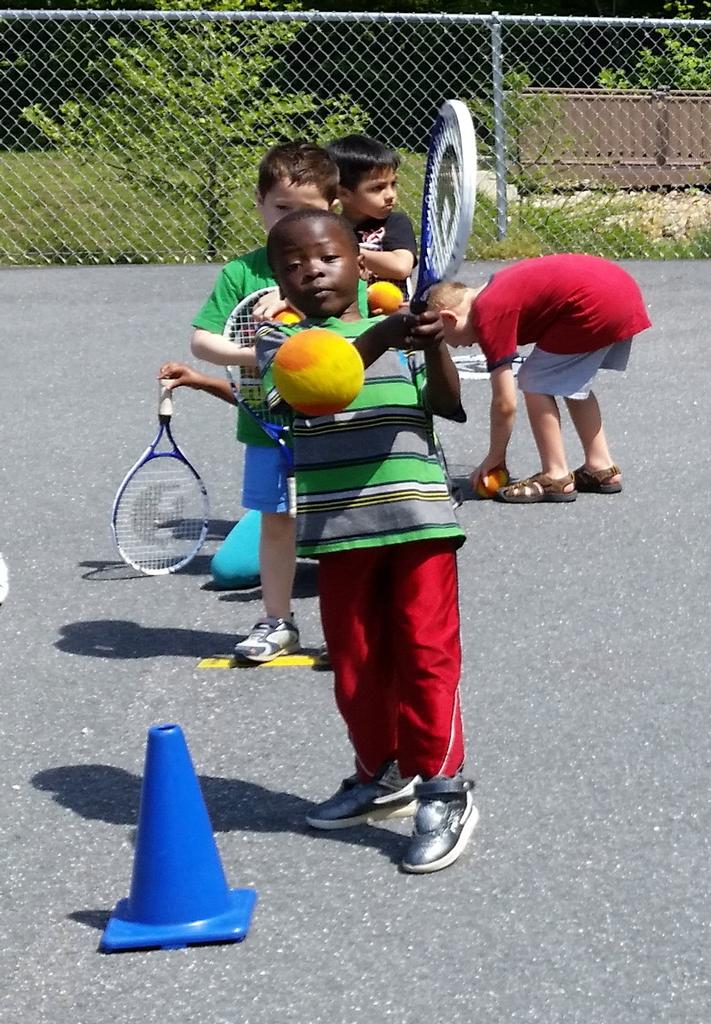 BrightSTARS -- Tennis for Me! (TFM) is a tennis, nutrition and reading immersion format specifically created for four-year-olds who participate in the Virginia Preschool Initiative (VPI), a state-supported preschool program in public schools for kids with risk factors that may prevent their early academic success. Statewide more than 17,000 kids participate. In Albemarle County, our home base, VPI classes are called "Bright Stars," so we "borrowed" the name and adapted it as BrightSTARS.
BrightSTARS is offered at the following schools:
** Greer Elementary (Albemarle) (2014/2015 school year)
** Mountain View Elementary (formerly Cale ES) (Albemarle)
** Buckingham Preschool (Buckingham)
** Grove Park Preschool (Danville)
** Clearview Early Childhood Center (Martinsville)
** Meadows of Dan Elementary (Patrick)
** Patrick Springs Primary (Patrick)
** Agnor-Hurt Elementary (Albemarle)
** Stone-Robinson Elementary (Albemarle)
** Woodbrook Elementary (Albemarle)
** Rockfish River Elementary (Nelson)
** Northside Preschool (Danville)
** Madison Primary (Madison)
** Red Hill Elementary (Albemarle)
** Jouett Elementary (Louisa)
** Moss-Nuckols Elementary (Louisa)
** Thomas Jefferson Elementary (Louisa)
** Trevilians Elementary (Louisa)

The BrightSTARS story: Debbie Shelor, a Pre-K teacher at Greer Elementary, knew about the work we do with older kids at Greer and the pilot we had run a few years back with Head Start. She asked if we would like to work with her students, and we jumped at the opportunity to combine tennis instruction and our Go Bananas for QuickStart! campaign. BrightSTARS - Tennis for Me! is the result.
Year One -- The initial pilot at Greer Elementary took place during the spring of 2015. Two VPI classsrooms with a total of 34 students received kid-sized equipment and the kids received limited tennis instruction to see how they would like. Well, they LOVED it! We held four classroom sessions, participated in 2015 Field Day and were asked to return for Jump Start Summer Camp in July which prepares Bright Stars for the transition to kindergarten. At the same time, Tennis Coach and preschool parent Erin Lake started working with kids at Buckingham PreSchool.
Year Two -- A second year of the pilot started with the 2015/2016 school year for 36 BrightSTARS at Greer. This second year was expanded to have 10 food-themed classroom sessions and used to create formal lesson plans. We documented the TFM approach -- 10 sessions spread over five months during the school year -- so that all eight Bright Stars schools in Albemarle County would be able to incorporate TFM in the future. TFM could be easily replicated, and ultimately reach all 180 Bright Stars in 11 classrooms in all seven schools in Albemarle County alone. All we need is enthusiastic classroom teachers, kid-sized equipment and a few volunteers -- local tennis players, parents or early childhood education majors at community colleges -- and funding to buy equipment.

Year Three -- When we expanded our Service Area to include four more counties in southside Virginia, we had the opportunity to expand BrightSTARS as well. The BrightSTARS -- Tennis for Me! format is now being used at Grove Park Preschool in Danville (96 kids), Clearview Early Childhood Center in Martinsville (64 kids), Buckingham Preschool in Buckingham County (108 kids) and we're doing a third year at Greer (36 kids). Patrick Springs Primary (40 kids) and Meadows of Dan Elementary (10 kids) schools in Patrick County started in spring 2017. BrightSTARS at Cale ES in Allbemarle County (54 kids) kicked off in April 2017. Plans are also in the works for BrightSTARS at Northside Preschool in Danville (90 kids).

Year Four -- Three new programs were started in October 2017 at Agnor-Hurt (18 kids), Stone-Robinson (18 kids) and Woodbrook (18 kids) Elementary Schools in Albemarle County thanks to a grant from the Party Parade Fund. Also started BrightSTARS for Bright Start VPI and Head Start kids at Rockfish River Elementary in Nelson County. Northside Preschool in Daville will start in spring 2018.

Combining the FUN of QuickStart Tennis and our innovative Go Bananas for QuickStart! campaign helps combat childhood obesity and physical inactivity in kids, especially those who are disadvantaged and are the most susceptible to being or becoming overweight or obese. The sooner we get to kids, the better!
Year Five -- Trained Madison Primary School in August. Fall sessions start in October at 13 schools. We've added a second classroom at Agnor-Hurt, so 820 kids will be participating.

Year Six -- Added Red Hill Elementary School. Added second preschool classroom at Woodbrook Elementary and the Early Childhood Special Education (ECSE) class which is led by Diana Smith who used to teach at Cale. Started sixth school year at Greer. Added to our pool of volunteers. QCV literacy grants for BrightSTARS classrooms at Cale, Greer and Stone-Robinson. Gave "My World" word books donated by the Soho Center to all 10 classrooms. Led one BrightSTARS session in early March at Stone-Robinson before the COVID-19 shut us down.
Year Seven -- Due to COVID-19, we are not able to visit schools and interact in-person with the kids. We want to continue to enrich the lives of BrightSTARS, so we decided to give six books over six months to all 196 preschoolers and 24 ECSE kids in Albemarle County as part of Racquets for Reading!!!, our intensified campaign to promote childhood literacy since our normal activities have been disrupted. Kids will also be receiving Go Bananas! cards and other giveaways like banana-scented bookmarks, rubber duckies reading a book, star-shaped sunglasses, mini beach ball with stars (so they can work on hand-eye coordination), Go Bananas! water bottles and anything else that will be FUN, engage the kids and foster a love of reading.
We teach preschoolers physical literacy, nutritional literacy and life skills that include reading and being kind!
Want to be a great adult? Be a BrightSTARS kid!

If you're interested in starting BrightSTARS at your school or would like to volunteer at a school, please contact us at: quickstartcentral@comcast.net
Take a look at our 10-session format, check out our detailed lesson plans and then let us know how we can tailor BrightSTARS to suit your school.