BrightSTARS - Tennis for Me!
at Grove Park Preschool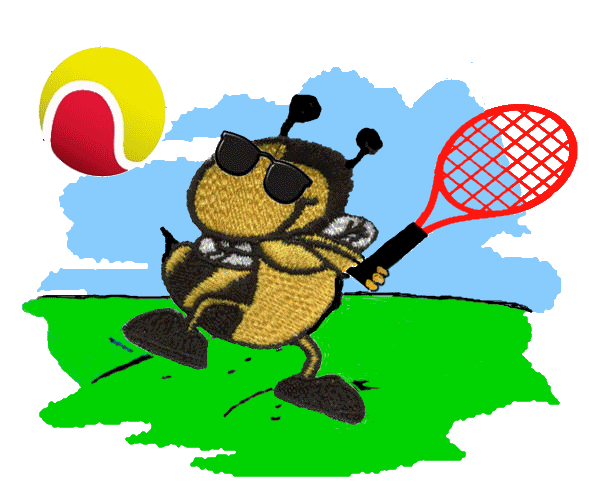 "Bee all you can bee" says School Mascot Bee-thoven. Bee-thoven seems pretty excited about learning to play tennis!

Grove Park Preschool is one of two standalone public preschools in the City of Danville. With 131 students, 95% of whom qualify for free lunches, Grove Park is the kind of school that can benefit the most from BrightSTARS - Tennis for Me!
Local QuickStart Tennis volunteer Neda Haymore will head up a group of teachers, teaching assistants and volunteers who will teach six classrooms (three on Tuesdays and three on Thursdays) in 10 sessions over five months - October, November, March, April and May. Neda was a Special Education teacher in the Danville school system for 22 years and an avid tennis player for the past 47 years. She is a founding member of Stratford Tennis Club and former coach of the George Washington High School Girls' Tennis Team. Neda is thrilled about this opportunity to give back to the community by sharing her love of tennis. Volunteers are students in the Early Childhood Education program at nearby Danville Community College (DCC). Martha Tucker, Professor of Early Childhood Education at DCC and Smart Beginnings Board member, thinks BrightSTARS will be a big hit with her students and the 96 four-year-olds at Grove Park Preschool who will be participating and so do we! We are so pleased Principal Lou Ann Long likes the BrightSTARS approach so much that instead of doing a pilot with only two classrooms, she asked for all six classes to be included. Neda agreed to take on this expanded project that will change the lives of 96 very fortunate kids. Want to be a great adult? Be a QuickStart kid!
Equipment for Grove Park Preschool was made possible by a grant from the Kiwanis Club of Danville Foundation. Thank you so much!!!

First week: October 2016 (Go Bananas for QuickStart! poster card) and Go Bananas! bracelets

Tuesday Group: Neda Haymore led a group of eight Early Childhood Education students from Danville Community College who will participate in the Tuesday and Thursday sessions -- three classrooms each day. Whew! DCC Professor Martha Tucker was there to kick off the program and joined in the FUN! Shelby Rhyne, Executive Director of Rockingham Community Tennis Association in Madison, NC, ventured across the border to observe BrightSTARS in action and was the photographer for the day. Thanks for all the great photos and videos! The kids received a Go Bananas! bracelet, a Go Bananas! poster card and a real banana. Shelby reported that one little boy observed that the bracelets are the same color as the QuickStart balls. See how smart tennis makes kids!!!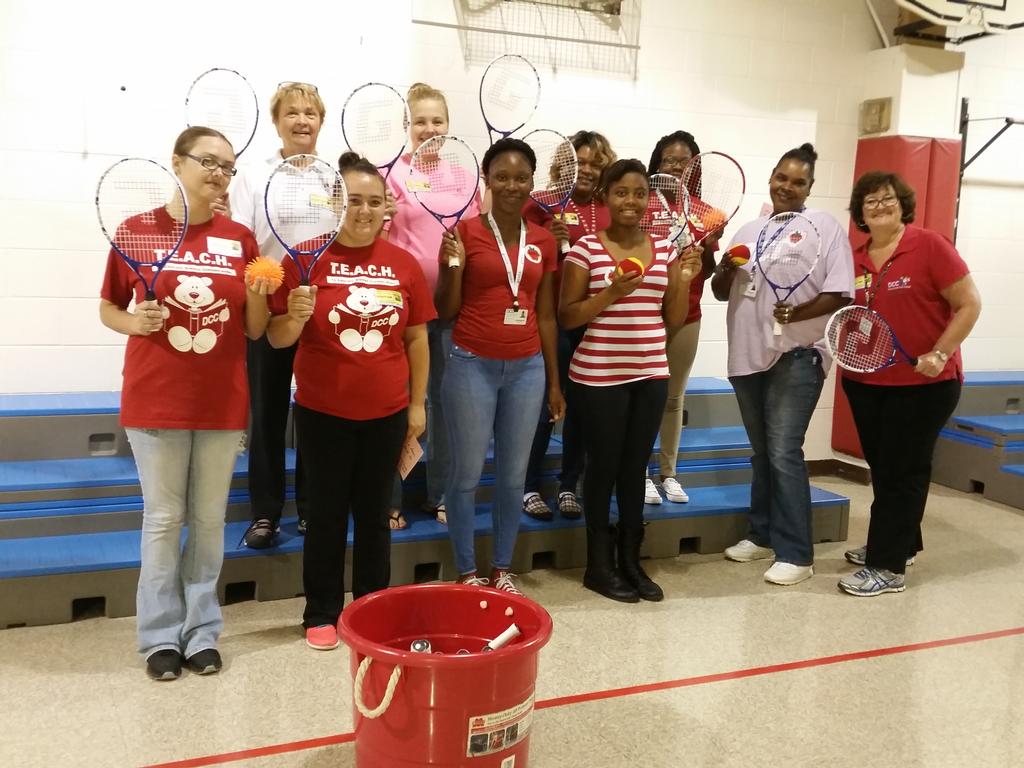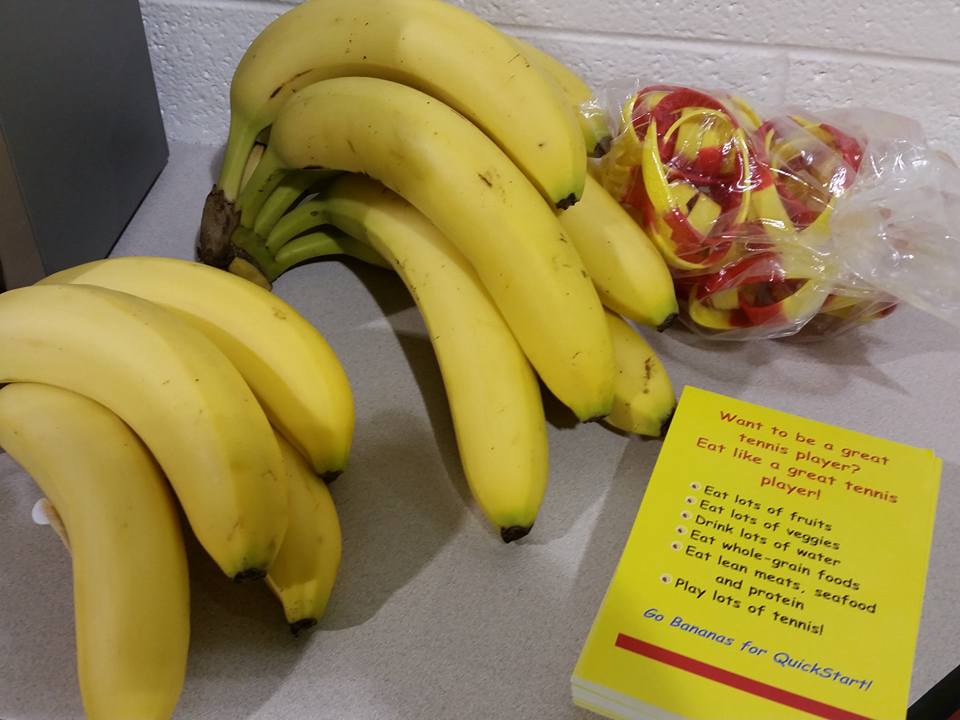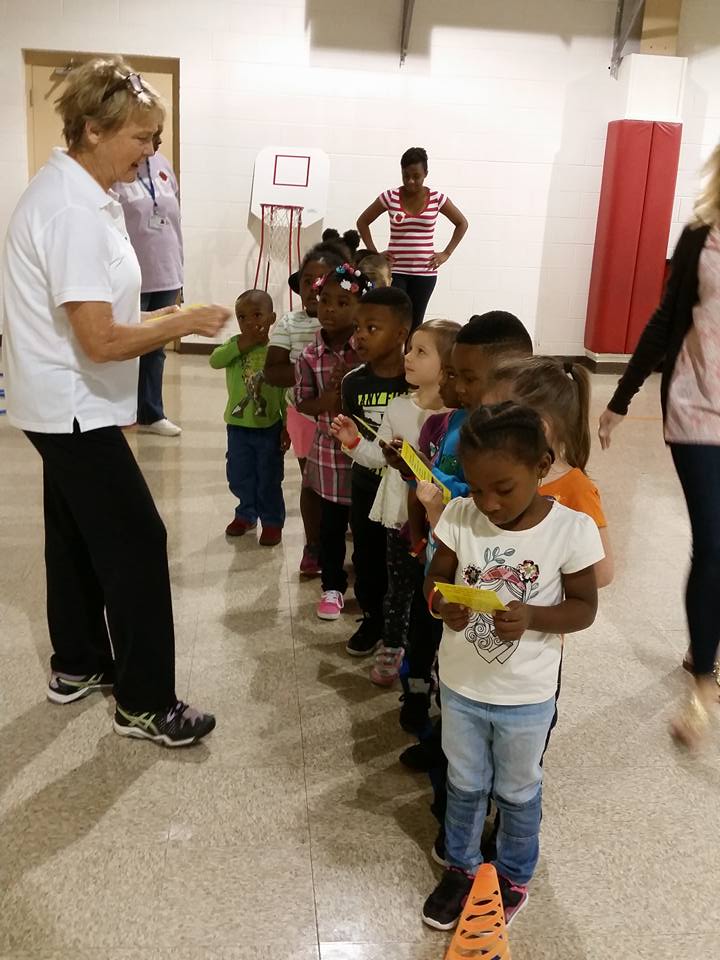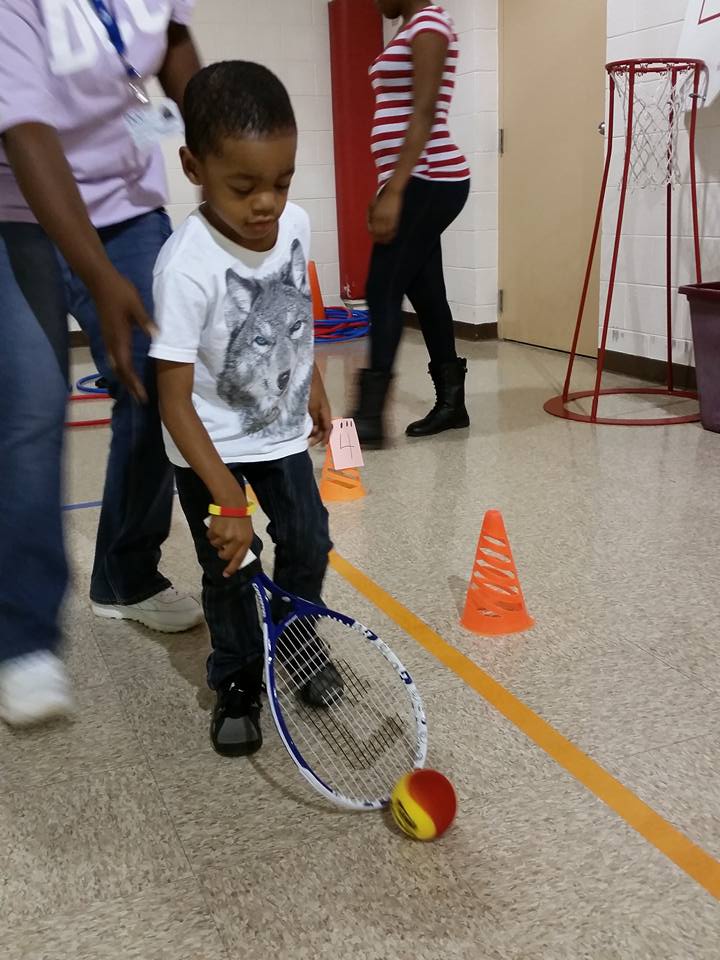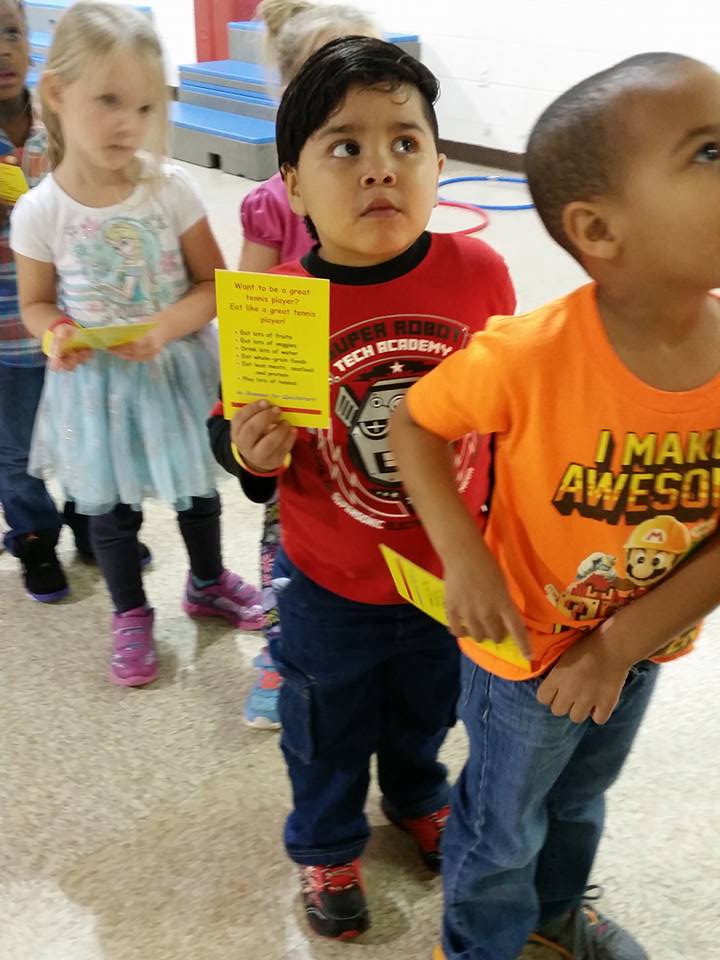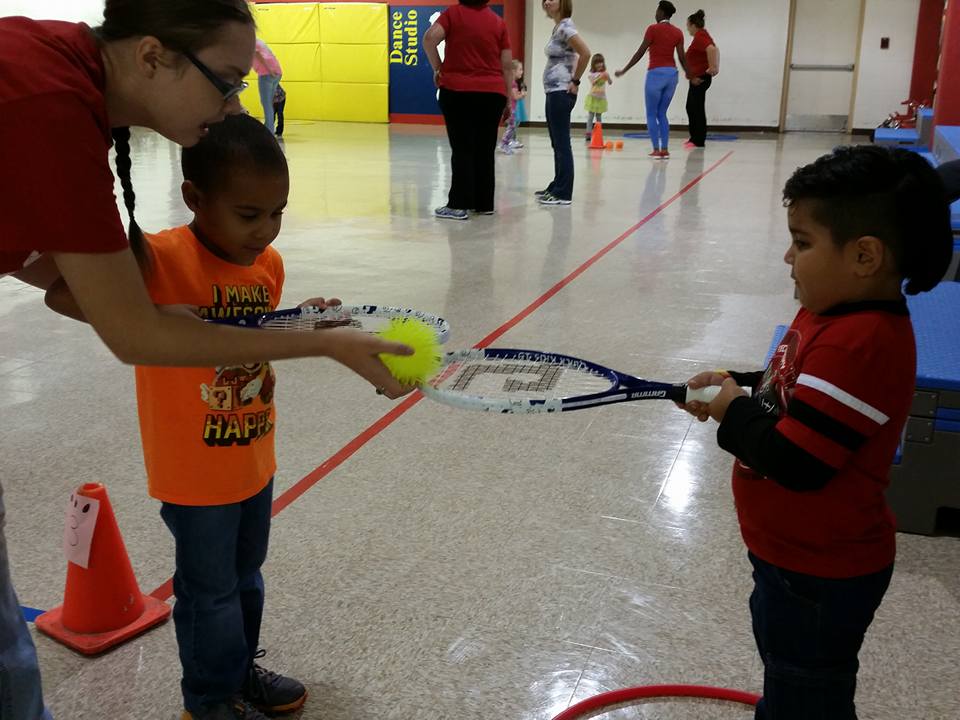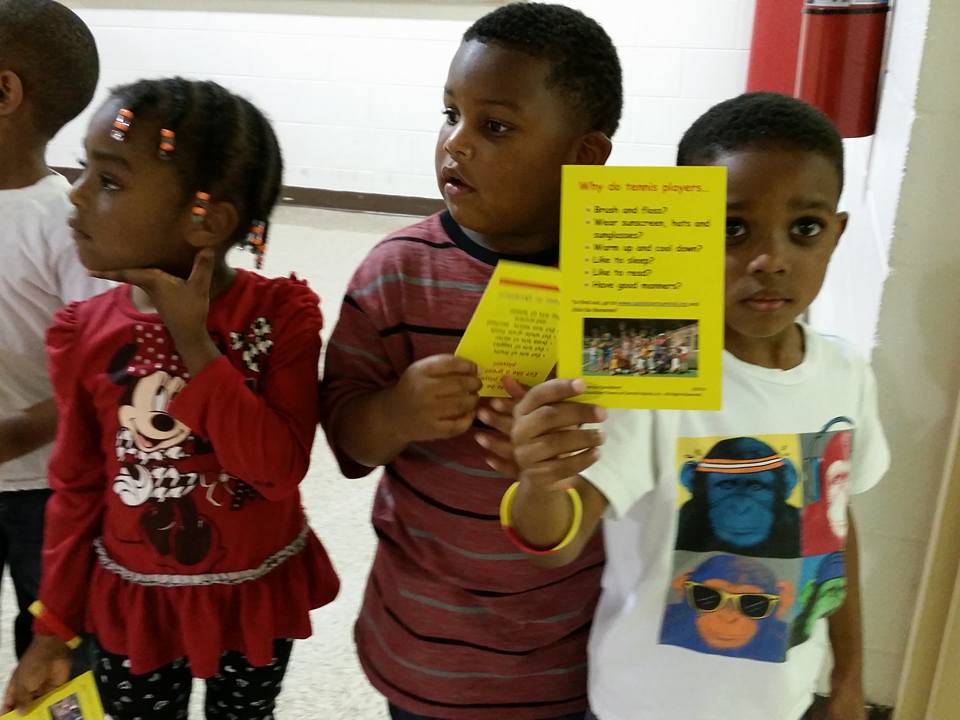 Thursday Group: Today Neda and company mixed things up a bit and replaced the four-station format with large group activities developing the same motor skills. Neda says, "The kids were great and the volunteers were awesome. We did the pop volley drill and the kids hit there first tennis stroke. The kids could actually hit the ball. The inaugural sessions this week were good. The next two will be even better."
Second week: October 2016 (Bananas)

Third week: November 2016 (Carrots)

Fourth week: November 2016 (Apples)
Fifth week: March 2017 (Berries) BrightSTARS resumed in mid-March with three classes on Tuesday and three more classes on Thursday.

Sixth week: March 2017 (Broccoli)

Seventh week: April 2017 (Cucumbers)

Eighth week: April 2017 (Spinach)

Ninth week: May 2017 (Tomatoes)

Tenth week: May 2017 (Brush & Floss)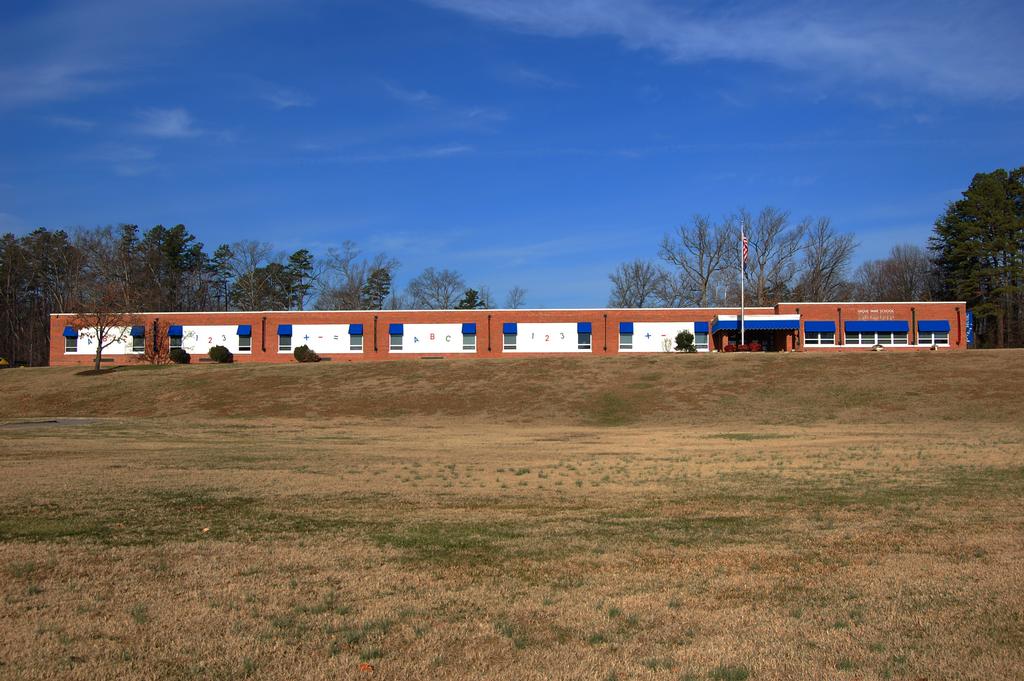 Grove Park Preschool, Danville, VA