Jump Start QuickStart in the City of Martinsville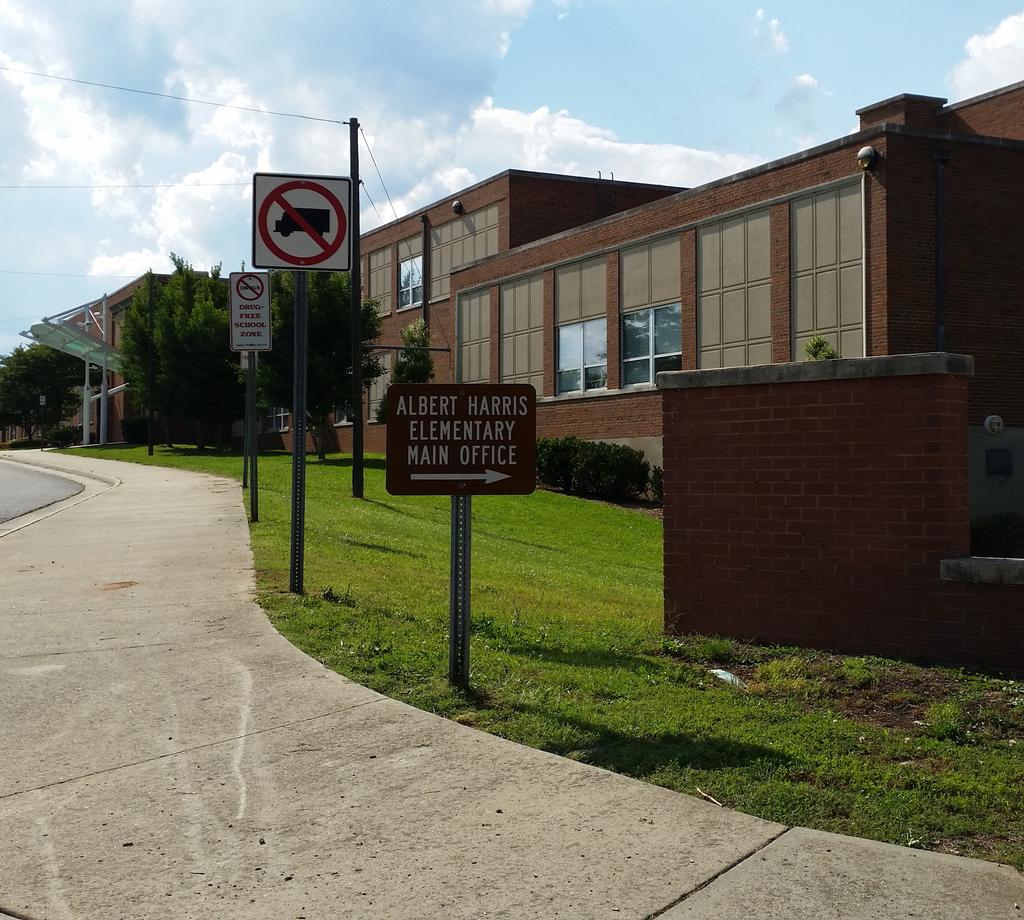 The City of Martinsville is QCV's third independent city and 28th community served. There are four public schools -- an early childhood center, two elementary schools and one middle school with 1,500 students. The City's population is less than 14,000 residents and has declined 11% over the past 10 years. The median household income is $27,500, only 44% of the state average and 27% of residents live below the poverty line. Federal Free or Reduced Lunch percentages in schools are in the high 90s. These kids could really benefit from learning tennis.
There are eight tennis courts at Martinsville High School and four courts at three parks in the city. The one court near Albert Harris Elementary (see below) desperately needs repair. The girls varsity tennis team at the high school has been very competitive, but Coach Rebecca Crabtree says the tennis pipeline is drying up. Jump Start QuickStart can help fix that!

Martinsville PE teachers participated in a joint training session with Henry County in June 2016. Albert Harris Elementary received a set of equipment at the training session. Clearview Early Childhood Center, Patrick Henry Elementary and Martinsville Middle School were subsequently equipped with a Diversity & Inclusion grant from USTA/Mid-Atlantic.

Rusty Lovell, a Martinsville native and USPTA-certified tennis professional, recently moved back home and is working to get tennis going in the area. He held a QuickStart Tennis Clinic at Jaycee Park.

Our Jump Start QuickStart model is train, equip and support schools and other youth-centric organizations that incorporate kid-sized tennis into the curriculum and/or enrichment activites. We provide free training and raise funds to buy equipment. We try to remove all barriers to entry for schools and youth organizations. We want to get kids moving and learning a lifetime sport.
A racquet in every hand! A smile on every face!
Project Budget
It costs ~$650 to purchase 36 racquets, two portable nets and six dozen balls for one site.

3 elementary & middle sch. $1,950 36 racquets, two portable nets and six dozen balls for each site
Early Childhood Center 450 24 racquets, one portable net, three dozen balls, koosh balls
3 curriculum guides 120 USTA School Tennis Curriculum kit
Preschool lesson plans N/C QCV Tots & Tykes Teaching Guide
Parks & Recreation 650 One site
Boys & Girls Club 1,300 Two sites
Total $4,470

Equipment funded by:
Contributed by QCV ($ 650) Albert Harris ES
USTA/Mid-Atlantic ($1,750) Clearview ECC, Patrick Henry ES, Martinsville MS
To be funded $2,070

We still need funding to equip City Parks & Recreation and the Boys & Girls Club.

If you would like to help us get kid-sized tennis going in Martinsville, please email: quickstartcentral@comcast.net


Tennis court at Dr. Dana O. Baldwin Memorial Park near Albert Harris Elementary -- June 2016