Help Get a Kid on a Kid-sized Court at Stone-Robinson!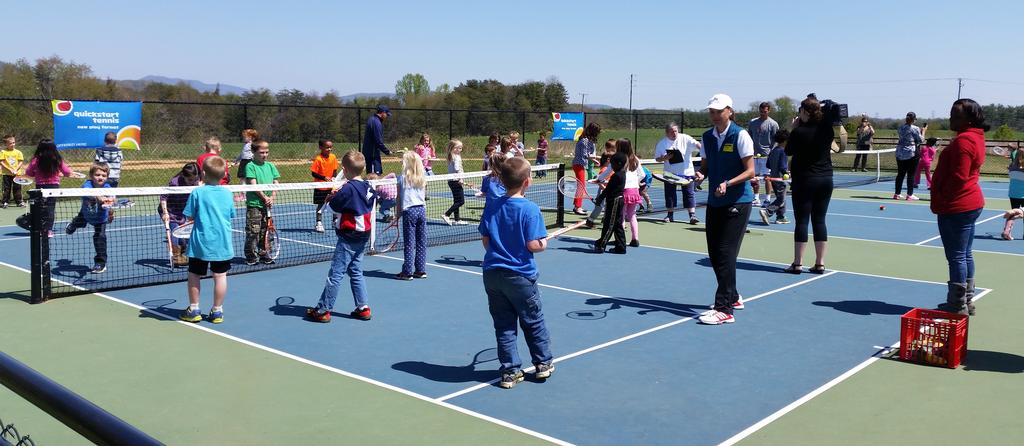 Stone-Robinson Elementary School, the Stone-Robinson Parent-Teacher Organization and QuickStart Tennis of Central Virginia (QCV) have joined forces to build three 36-foot tennis courts at the school.
Stone-Robinson is a fully accredited, Albemarle County public elementary school with 450 students, 30% of whom qualify for free or reduced lunch. The PTO is very active in supporting the school and is dedicated to building relationships with the entire school community. Kid-sized QuickStart Tennis has been taught in PE classes with portable nets at Stone-Robinson for nine years. BrightSTARS-Tennis for Me!, a tennis and nutrition immersion format for preschoolers with identified risk factors is in its second year at Stone-Robinson. QCV made a Grow Veggies for QuickStart! grant to the school in 2011 for their "tennis" garden. QCV has built kid-sized courts at Claudius Crozet Park (2012) and Crozet Elementary School (2014) and looks forward to having permanent kid-sized courts to Stone-Robinson.
Tennis can be a transformative sport for kids in many ways. Learning this lifelong sport early in life can set positively impact physical, emotional and academic development. Having courts right where the kids are provides them an opportunity for spontaneous and structured play and increases their chances for success on and off the court.
Did you know . . .
70% of childhood obesity is correlated to physical inactivity?
70% of children who are overweight and obese will continue to struggle with their weight as adults?
Tennis supports the development of life skills (integrity, determination, dedication and sportsmanship) often not taught at home today?
Tennis players in high school get the best grades, cause the least trouble and are the most likely to go to college compared to kids who play other sports or no sports?
Building kid-sized courts in public places increases opportunities for every child to learn and play the sport?
Schools provide a safe place for kids to play?
Public school playgrounds like those at Stone-Robinson are a community resource, doubling as a community park after school hours and on weekends?
 We hope you will STEP UP like these generous donors to support kid-sized tennis courts at
Stone-Robinson Elementary
Stone-Robinson PTO, a charitable 501(c)(3) organization, is administering the project. EIN 54-1511568
958 N. Milton Road, Charlottesville, VA 22911          434-296-3754