Jump Start QuickStart in Patrick County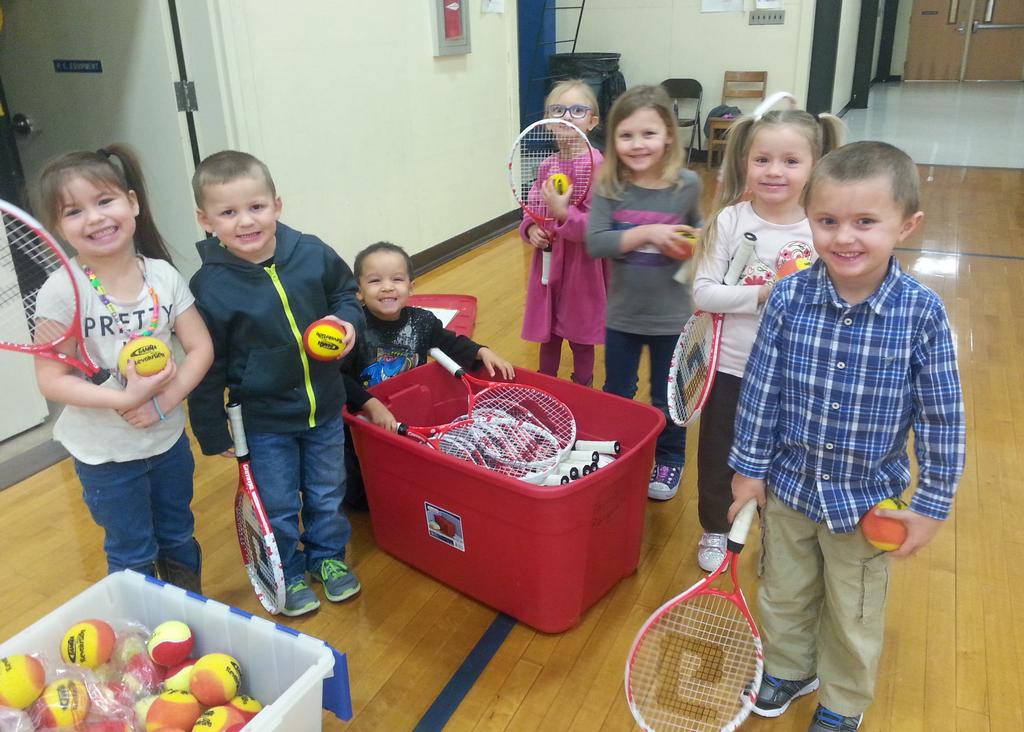 New Tennis Players at Patrick Springs Primary School
Patrick County is QCV's 26th county and 29th community served. There are six public elementary and middle schools --- four K-7, one K-3 and one 4-7 with almost 2,000 students spread over 485 square miles in the county of 18,000 residents. There are three tennis courts at Patrick County High School where both boys and girls high school teams play and seven courts at four parks in the county. Unlike many other counties we serve, there are several public tennis facilities.

Our Jump Start QuickStart model is train, equip and support schools and other youth-centric organizations that incorporate kid-sized tennis into the curriculum and/or enrichment activities. We provide free training and raise funds to buy equipment. We try to remove all barriers to entry for schools and youth organizations. We want to get kids moving and learning a lifetime sport.

Training for Patrick County PE teachers and community members was held on August 8, 2016 at Patrick County High School. Patrick Springs Primary was given a set of equipment. Schools will share until we can equip them all.
Patrick County Update, November 2017: click HERE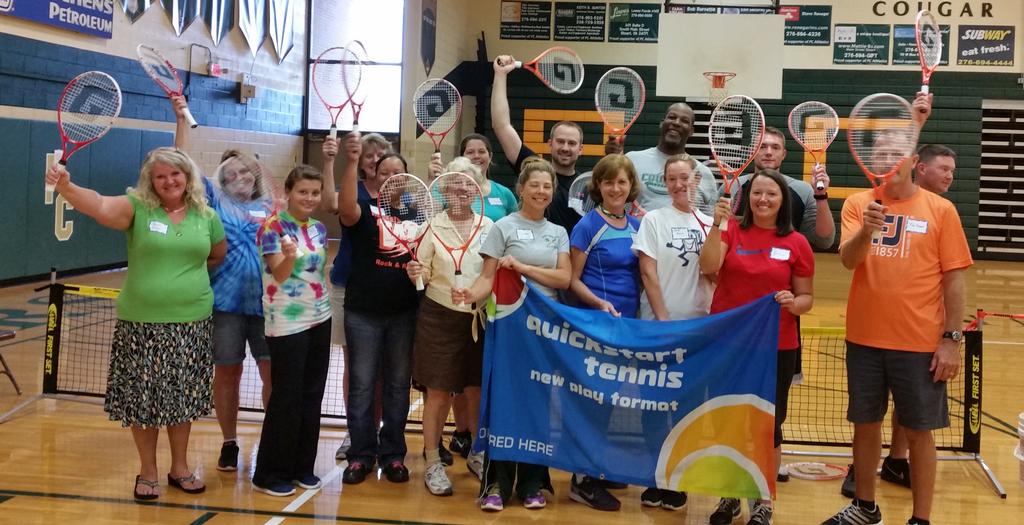 After training, two schools showed interest in piloting BrightSTARS - Tennis for Me! in their prekindergarten classes -- Meadows of Dan ES (15 students) and Patrick Springs Primary (29 students). It will cost an additional $1,050 above the $5,340 already budgeted for Jump Start to implement BrightSTARS at the two schools. A grant has been received from the Martinsville Area Community Foundation to fund BrightSTARS.

Jump Start QuickStart Budget for Patrick County
It usually costs ~$650 to purchase 36 racquets, two portable nets and six dozen balls for one site. Because Patrick County has four "combined" schools, the number of racquets for those schools needs to be increased, so they can have appropriate size racquets for all students.
Equipment Needed: ($2.35 per student to equip all six schools)
Four K-7 schools $ 3,120 54 racquets, two portable nets, nine dozen balls
One K-3 school 650 36 racquets, two portable nets, six dozen balls
One 4-7 school 680 36 racquets, two portable nets, nine dozen balls
Lesson plans (6) 240 USTA Curriculum Kits
Patrick County Recreation 650 36 racquets, two portable nets, six dozen balls
Total $ 5,340
=====
Equipment Purchased:
Contributed by QCV 650 Patrick Springs Primary (at training session)
USTA Mid-Atlantic 780 Stuart Elementary
USTA Mid-Atlantic 780 Woolwine Elementary
Martinsville Area Com Fdn 875 Blue Ridge and Hardin Reynolds Elementary
Contributed by QCV 150 Hardin Reynolds Elementary

BrightSTARS - Tennis for Me! Pilot for Patrick County
Equipment for Dan Meadows $ 450 Grant for $1,000 received from Martinsville Area Community
Equipment for Patrick Springs 450 Foundation (MACF)
Go Bananas! materials 150
Total $1,050
=====

Best THANK YOU note EVER!!!!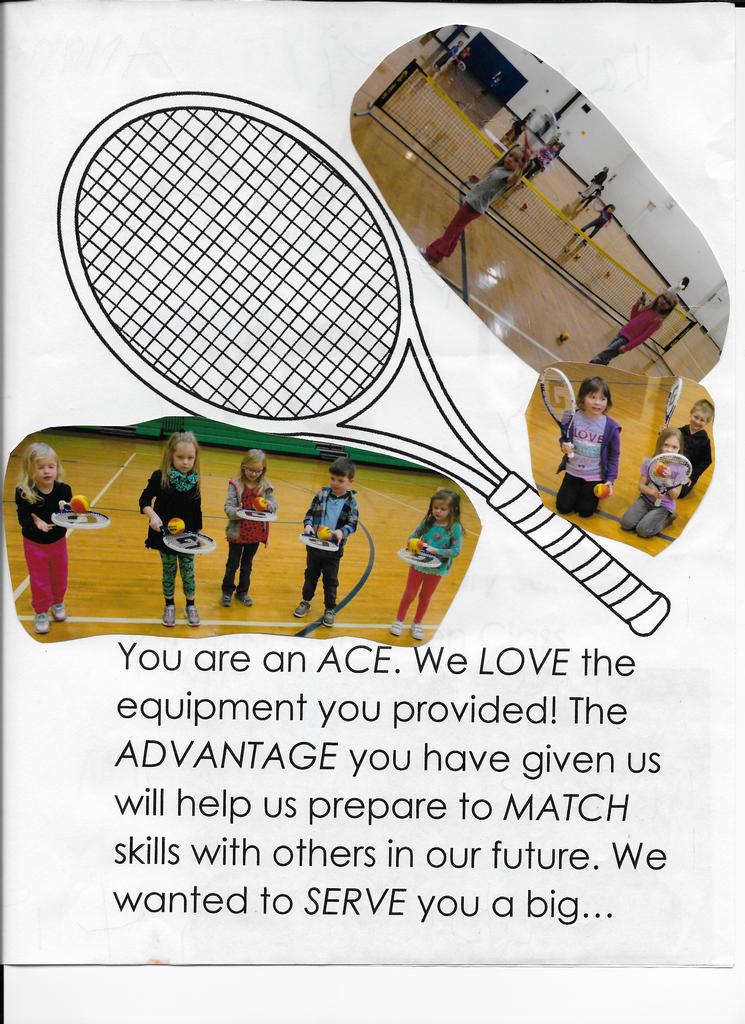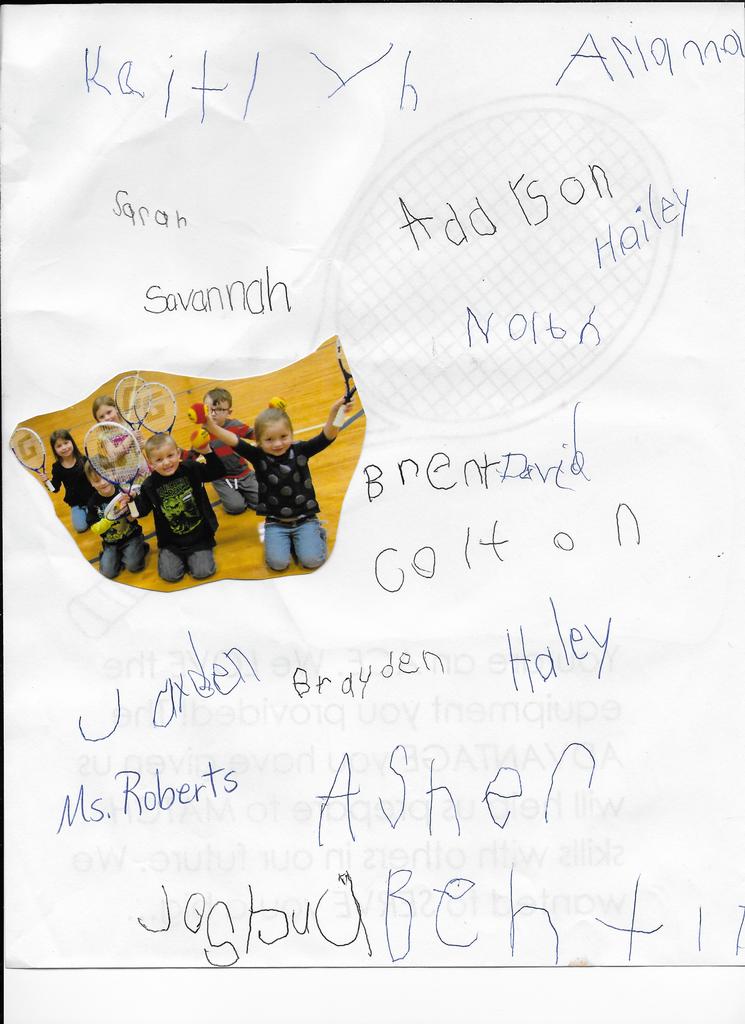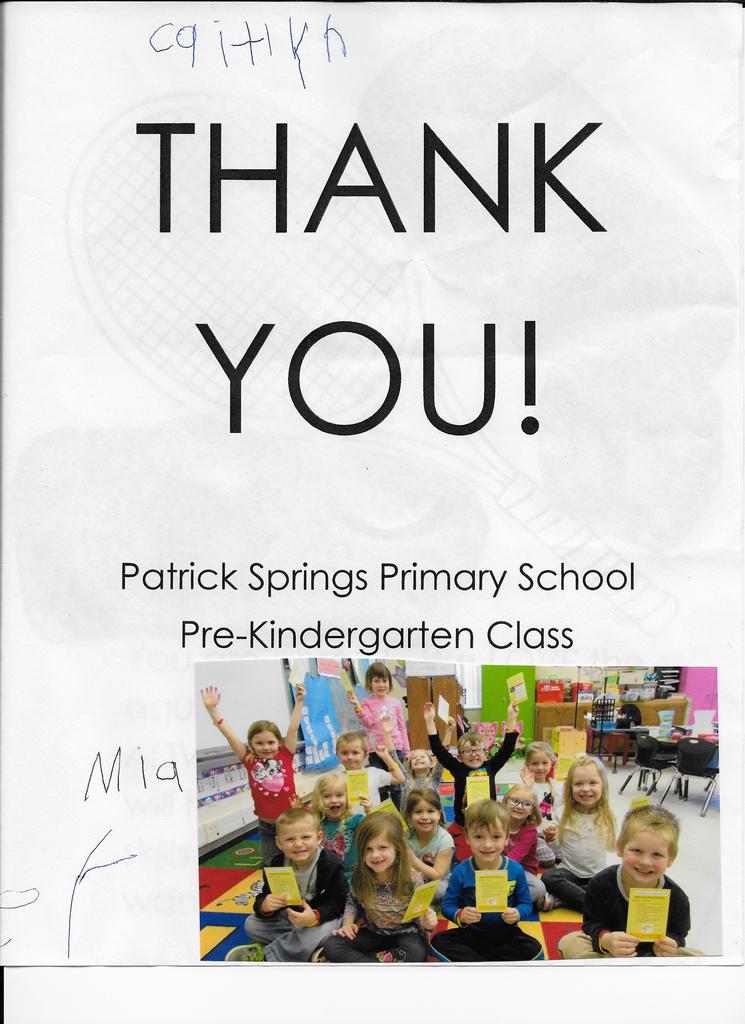 If you would like to help us get kid-sized tennis going in Patrick County, please email: quickstartcentral@comcast.net