QuickReStartSM Tennis is the KEY!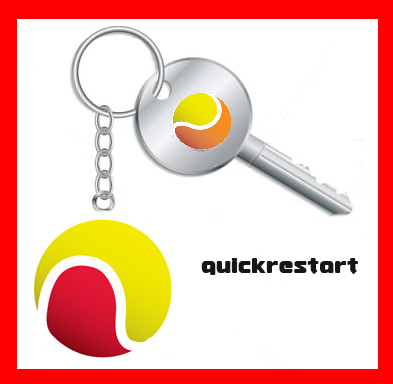 Want to improve your agility, balance, coordination, focus and reaction time?
Want to have some real FUN! Want to feel like a kid again?
Want to play kid-sized tennis with your grandkids?
Want to play a down-sized version of tennis with your friends?
Then QuickReStartSM Tennis is just what you need! Staying active is a key objective!
QuickReStartSM Tennis is an innovative adaptation of the USTA's QuickStart Tennis format which was originally developed for kids 5 to 10. It is an interactive, recreational experience for senior adults who aren't as active as they once were or want to learn how to play tennis from scratch. QuickReStartSM Tennis helps develop/redevelop motor skills, sharpen mental skills and provides a social outlet for seniors. QuickReStartSM Tennis is the key to getting seniors moving and having FUN!

QuickReStartSM is currently offered at the Lodge at Old Trail and the Colonnades.

QuickReStartSM Tennis
Is an avenue to reawaken and stimulate brain functions
Encourages social interaction and teambuilding
Uses spatial summation to reconnect underutilized parts of the brain
Is low-impact
Is FUN for all ages
Encourages inter-generational play
QuickReStartSM is taught in the Charlottesville area by Chris "Cubby" Cubbage, a USPTA Tennis Professional and Founder of Matilda Blue Tennis. Cubby has been a full-time tennis professional for 36 years and has logged over 30,000 hours of on-court training. He has made tennis and personal development of individuals, seniors, family and children his passion and joy. Residents at The Lodge at Old Trail love working with Coach Cubby. Read all about it in The Lodger newsletter.
For more information, contact Cubby at (434) 906-8554 or chris.cubbage6@gmail.com.
Note: Participants should be sure to consult their physician before beginning any QuickReStartSM Tennis or other exercise program.