10 and Under Tennis -- it's a whole new ballgame!
USTA Launches new 10 and under Tennis Initiative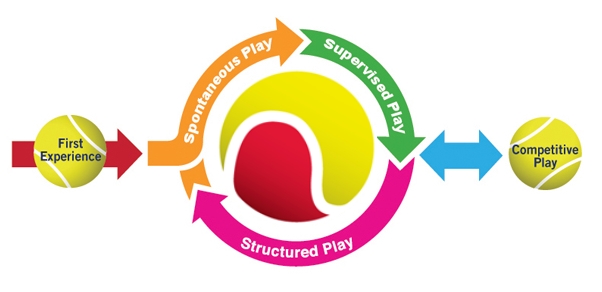 Check out the USTA's new 10 and Under Tennis website here!
Positive First Experience

Playing tennis needs to be a FUN, no-pressure and successful experience for kids. That's why the "play to learn" QuickStart Tennis format was developed. With kid-sized equipment, an emphasis on developing motor skills, FUN lesson plans and cooperative, teambuilding activities, QuickStart is the perfect vehicle to help kids develop a life-long passion for tennis.

The first tennis experience for kids can take place in any number of locations - on a playground with friends, in a driveway with a parent or sibling, at school during PE class or recess, in a before- or after-school program, in parks, camps, clubs or other tennis facilities. Many youth-centric organizations life the YMCA and Boys & Girls Club also offer tennis, generally in after-school or summer programs.
But once a youngster has that first experience, it's important to identify opportunities for continued participation. QuickStart Tennis affords parents and kids a variety of possibilities for continued play, including the three Ss: spontaneous, supervised and structured play. This is the USTA's Youth Pathway.
Spontaneous Play
An opportunity often overlooked in our highly scheduled society is spontaneous play, where kids can learn and play either by themselves or with other kids. It could be hitting balls against a wall or garage door, or by setting up modified courts that fit into smaller or more restricted spaces. Playing tennis with foam balls on a modified court can provide endless hours of activity and fun. Spontaneous play encourages kids to be creative.
Smaller courts can be set up on driveways, parking lots, playgrounds, activity rooms, gymnasiums and even on tennis courts using sidewalk chalk for lines and a rope or "caution tape" as a net. Several manufacturers make portable, pop-up nets that can easily be set up and disassembled. Kids can play with their friends and parents will enjoy hitting the slower balls with their children in this realistic yet modified tennis experience.
With the balls modified so they are lighter, slower and lower bouncing (red and orange balls), hitting against a wall is easier, safer and allows a child to take a full swing at the ball and still have time to recover and prepare for the next shot. Almost any wall will work. To make things more challenging and realistic, make a net line 3 feet above the ground so the child learns to hit above the net. A second line can be drawn on the ground a certain distance from the wall so that the child will have to hit with some degree of power to make the ball rebound off the wall and back to the line.
Supervised Play
Supervised play can be offered anywhere in which courts are made available for kids to use under the direction of an adult. The role of the adult is to serve as the "gatekeeper" and provide a safe area in which everyone has an opportunity to play. Similar to an "open gym" for basketball or an "open pool" for swimming, these opportunities are ideal for schools, youth centers and neighborhoods where kids can meet up and enjoy the camaraderie of playing with one another.
Structured Play
As a child develops an interest in tennis, finding an organized program is a great way to improve their skills and provide further development through lessons, clinics and additional play opportunities. Programs for 10U kids should use the QuickStart Tennis play format, with courts and equipment scaled down to the size and ability of the kids. Instructors for this group should have received special training in working with young children. Finally, make sure the program includes more than just lessons. Kids have fun when they actually play, so the program should have competitive opportunities that are non-elimination and allow a child plenty of opportunities to play with and against a large number of players.
Many children will enjoy the camaraderie of a team atmosphere. USTA Jr. Team Tennis provides kids the opportunity to learn and compete on a team and be with their friends. Matches and practices are team-based and are fun because kids have the support of teammates and coaches. For parents who want to coach or assist on court, the USTA provides workshops —both the standard Recreational Coaches Workshop and workshops designed specifically for teaching the QuickStart Tennis format.
Competitive Play
Kids with a competitive spirit -- love to play and compete, regardless of their proficiency, have advanced hand-eye coordination and go after every ball -- may enjoy competing in 10U tournaments which are held during the summer months. These kids may also be selected to participate in the Charlottesville Competition Training Center Program which is sponsored by USTA/Mid-Atlantic as part of their player development activities.

Lots of opportunities for kids to play QuickStart!