Ellis Acres Memorial Park -- Dillwyn, Virginia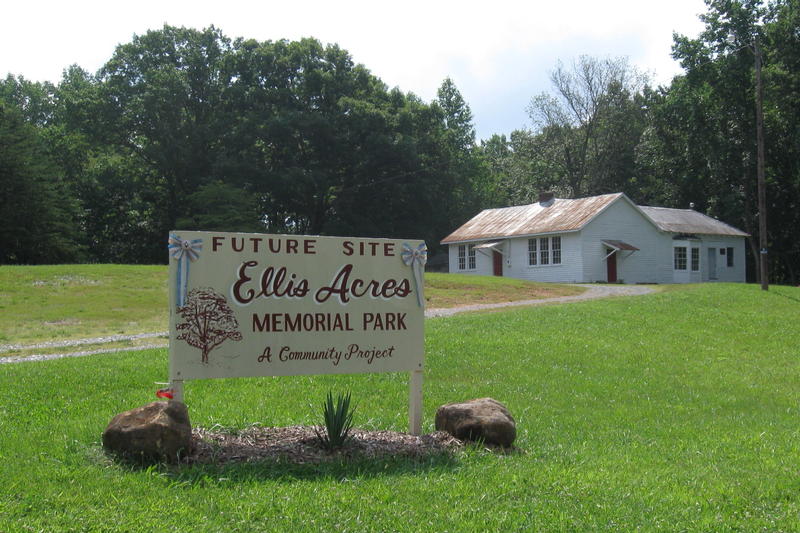 QuickStart Tennis of Central Virginia is pleased to be partnering with Ellis Acres Memorial Park in Dillwyn, VA and the Buckingham County Recreation Department to bring tennis back to this historic site in the form of QuickStart Tennis.

As part of its Jump Start QuickStart Initiative, QCV reached out in Buckingham County and found Ellis Acres, home of an interesting "antique" tennis court, and four very enthusiastic community members: Diane Holman James, Wilbert Dean and "Bill" Davis, who were instrumental in starting the nonprofit organization that is overseeing the park's restoration and transformation, and Todd Shumaker, Buckingham County Director of Recreation.

Ellis Acres is the site of the Buckingham Training School (BTS), the first African-American Secondary School in Buckingham County (1923-1954), which later became the Stephen J. Ellis Elementary School (1954-1965). The 9.25-acre campus is now being developed into a modern community park with features to accommodate all family members. It is called "Ellis Acres Memorial Park" in recognition of the leadership and vision of Reverend Stephen J. Ellis to establish the Buckingham Training School so many years ago. The original school building was built in 1923 for $6,100, with $3,000 contributed by parents, $1,100 from a Rosenwald grant and $2,000 from Buckingham County. There were over 5,300 "Rosenwald schools" built in the South. The Buckingham site is one of only 33 being restored by a partnership of the National Trust for Historic Preservation and Lowe's -- the Rosenwald Schools Initiative.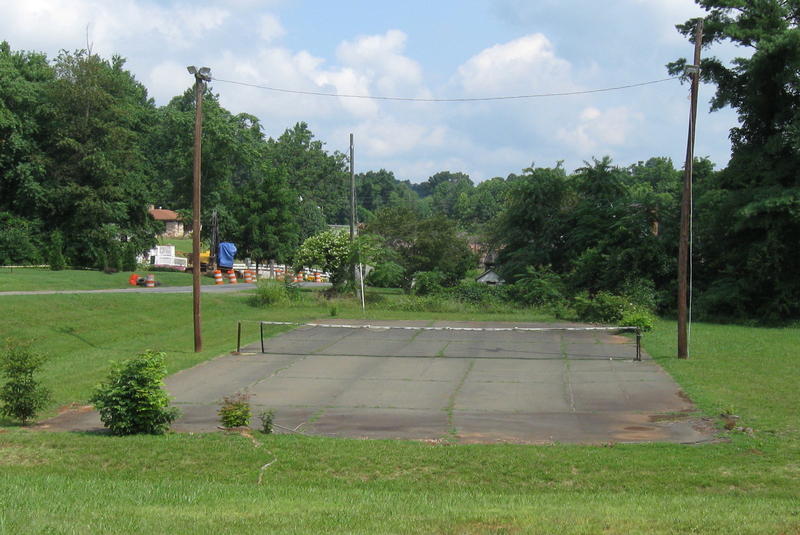 Once restored, the Buckingham Training School vocational shop building will house a conference room, two multi-purpose rooms, industrial kitchen facilities, and a state-of-the-art computer center with broadband internet service. The rooms will accommodate positive youth development activities, activities for senior citizens, self-esteem enhancement sessions, individual career-options conferences, GED classes, community college classes offering credentials ranging from certificates to associate degrees for graduates, and community meetings.

A great spot for QuickStart Tennis!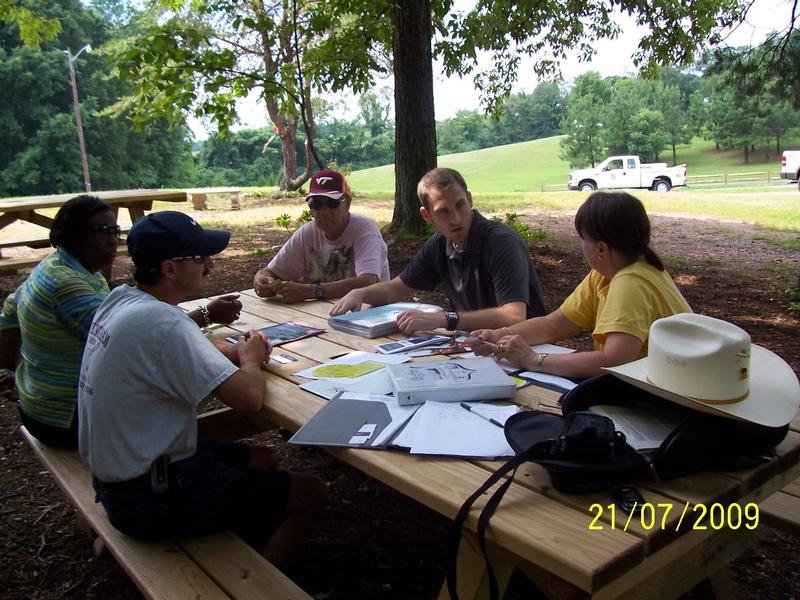 The USTA Public Facility Assistance Program is helping Ellis Acres develop a site plan for two tennis courts and a plan for getting the courts funded and built. QCV is helping Ellis Acres identify potential grants to help fund construction of the courts and other site amenities.

Former BTS student Wilbert Dean, who retired from the U.S. Army as a Colonel and now lives in Chesterfield County, is the driving force behind the Ellis Acres restoration project. His vision led to the formation of the Ellis Acres organization. Wilber was joined by Diane Holman James, another BTS student and a current Dillwyn Town Council member, who retired to Dillwyn after a successful career in Washington, DC. Once completed, Ellis Acres is going to be a tremendous asset for the community.

Diane, Todd, Bill, USTA Mid-Atlantic representative Jonathan Amos, and QCV QuickStart Coordinator Lynda Harrill, talked over plans for Ellis Acres while Wilbert preserved the moment for posterity. This was the beginning of a very special relationship for QCV with Ellis Acres and Buckingham County. Lots of Community Tennis Associations "adopt" schools. QCV has adopted an entire county!

The very next month Diane attended QuickStart training in Charlottesville and brought along Anna Spears, a member of the Buckingham High School Girls' Tennis Team. Anna and her coach, Erin Lake, have been very involved in the Ellis Acres project.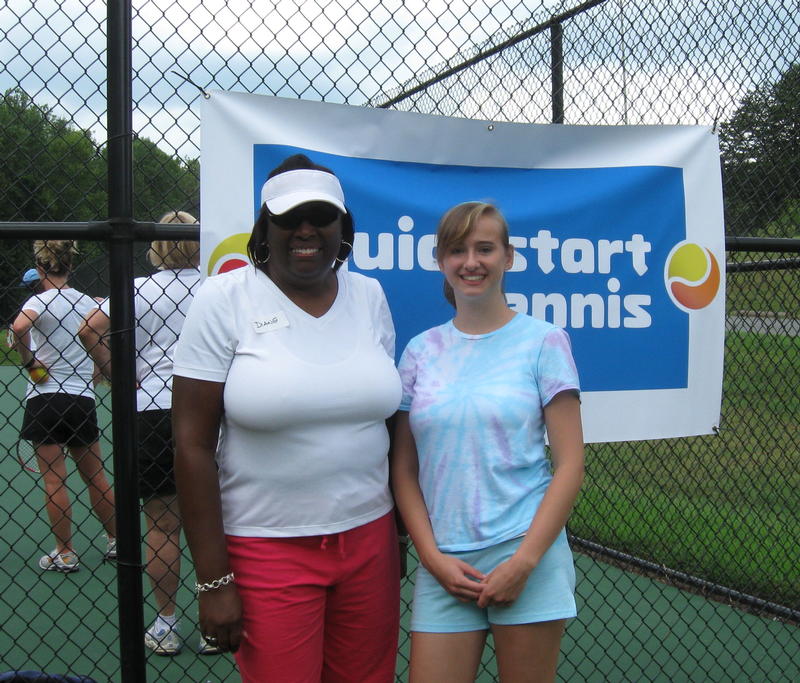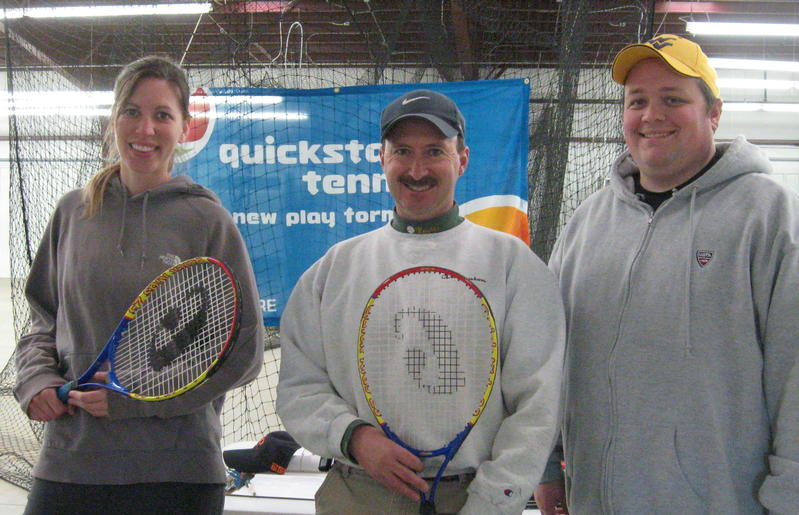 Diane and Anna at training, August 2009 Erin, Todd and Steve Iman, USTA/Mid-Atlantic Rep, February 2010

A training session was held in Buckingham County in early 2010. Erin, six of her players and one player's Mom now know how to teach kids all about QuickStart and will teach for the Recreation Department in the summer. Waddell Mosley, PE teacher at Dillwyn and Gold Hill Elementary Schools, also attended. After less than an hour on the court, Waddell knew what QuickStart will mean to his students. QCV has made an equipment grant to make that possible.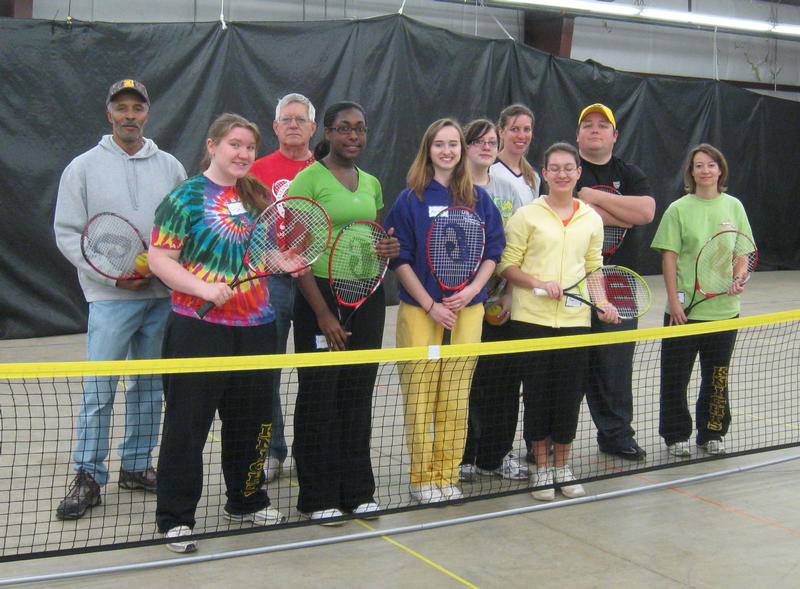 Waddell Mosley is the first one in the second row.
2010 Summer QuickStart Tennis Program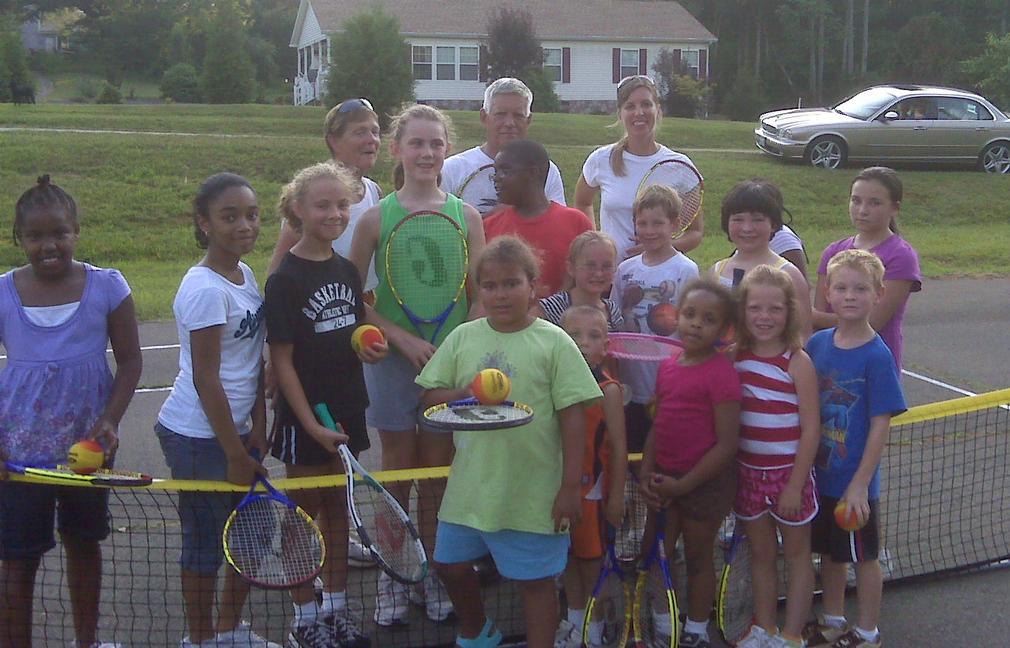 The inaugural summer QuickStart Tennis Program at Ellis Acres kicked off June 21, 2010 with 15 participants, three coaches and plenty of parents watching.


No one seemed to mind the "antique" tennis court.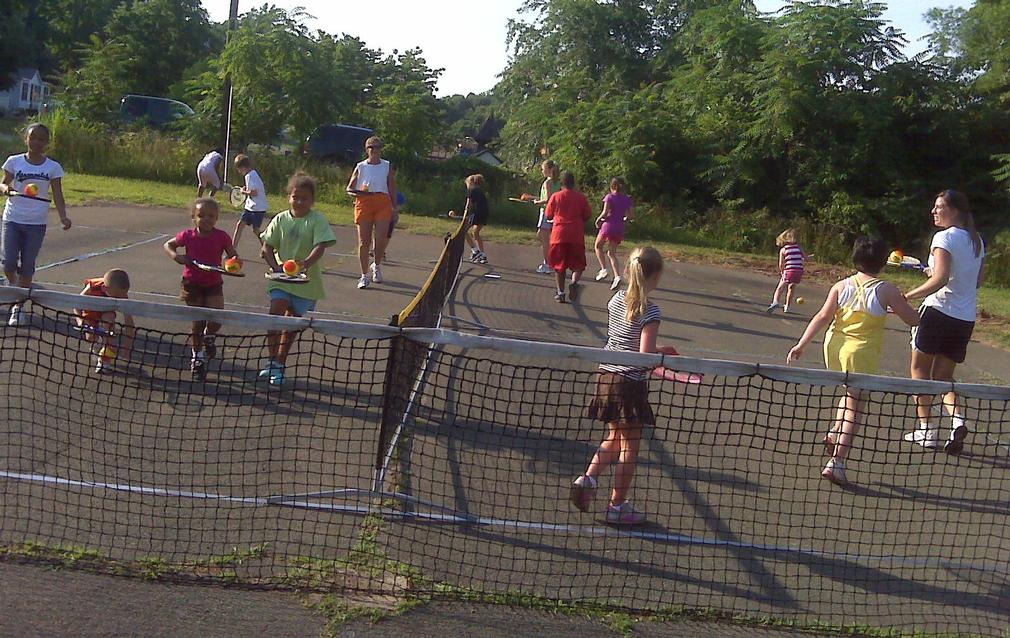 QuickStart FUN at Ellis Acres!
June 2011 -- Ellis Acres has received a grant for $89,000 from the Charlottesville Area Community Fund (CACF) that will enable them to complete renovations of the classroom building and allow them to focus on tennis facilities for the park. CACF has supported so many wonderful nonprofits in the seven county area it serves and Ellis Acres is one of the best!
2011 Summer QuickStart Program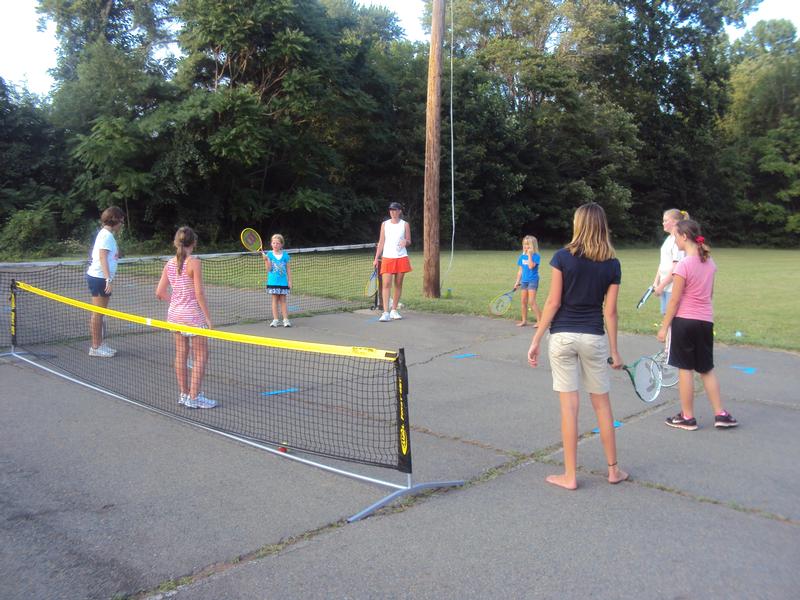 November 11, 2011 -- Ellis Acres Grand Opening at 11:11 a.m.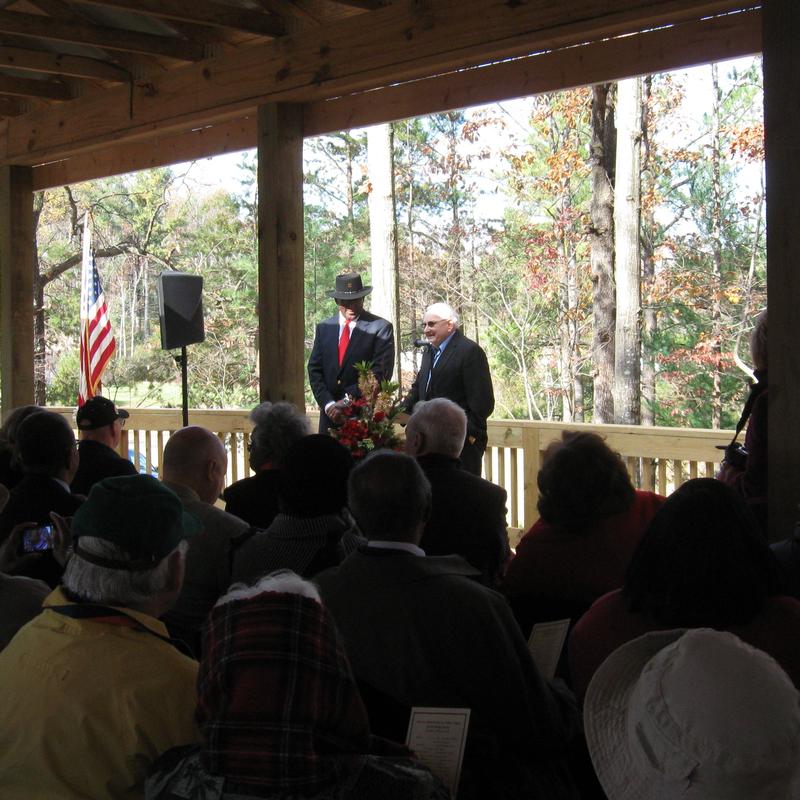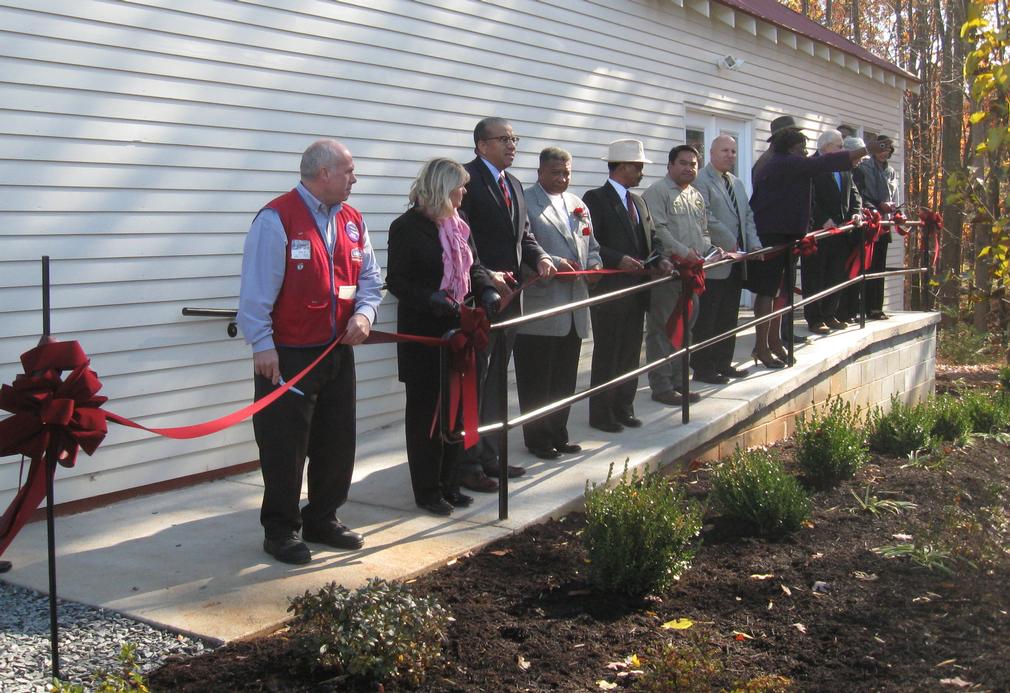 The dedication and ribbon-cutting ceremony was attended by almost 500 people. It was a glorious day and a wonderful way to celebrate a lot of hard work by a group of very dedicated volunteers. QCV was thrilled to be part of this historic event. Read more.

Now that the Community Building is completed, it's time to get going on the tennis courts!
2012 Summer QuickStart Program
2012 summer QuickStart programming at Ellis Acres kicked off on July. High School Coach Erin Lake and QCV Board Member Rich Michaels taught for the third year!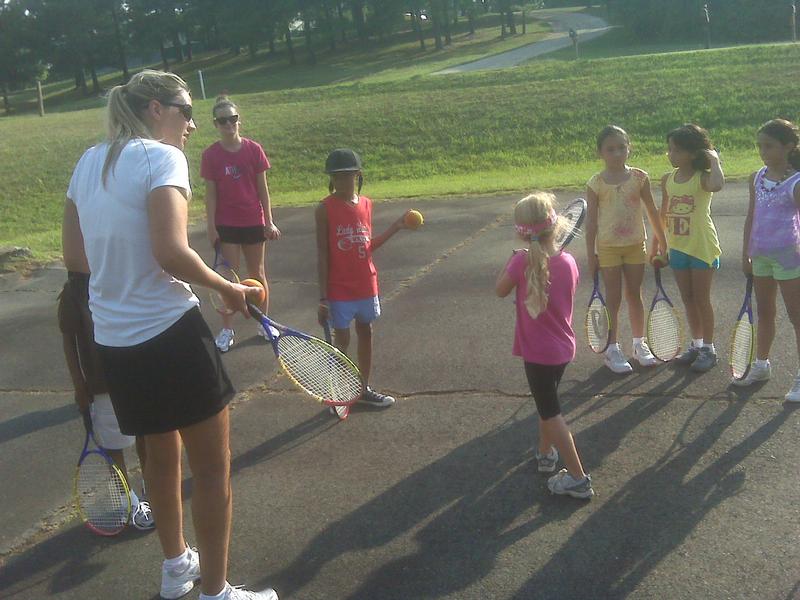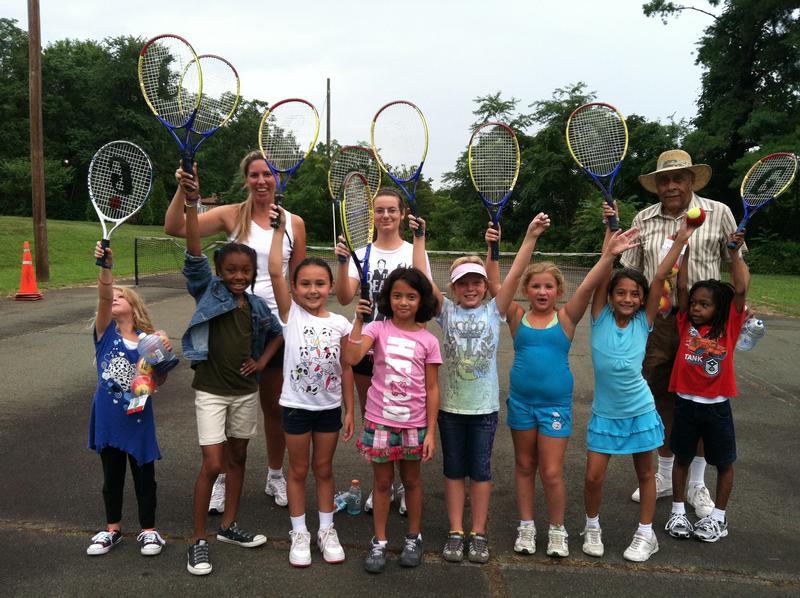 Erin and her 2012 QuickStarters!!!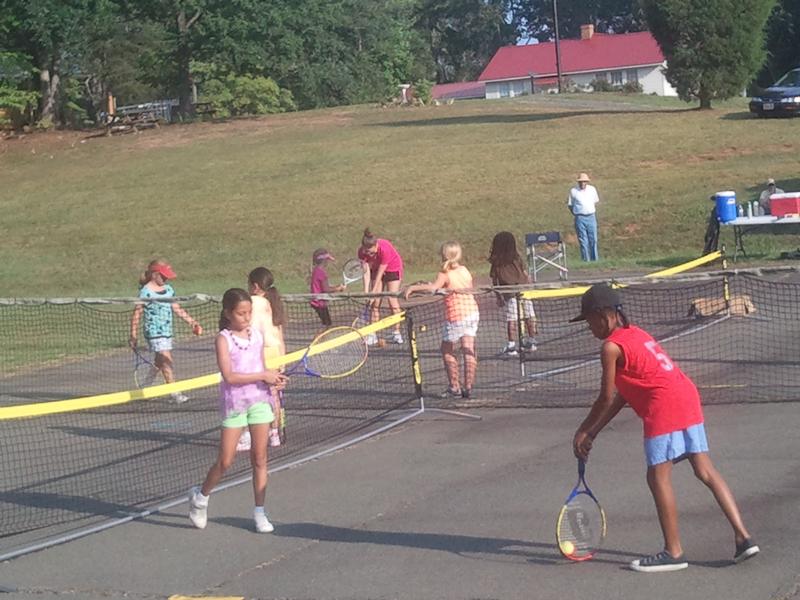 Our friends at Ellis Acres received additional grants for playground and tennis court improvements.


2013 Summer QuickStart Program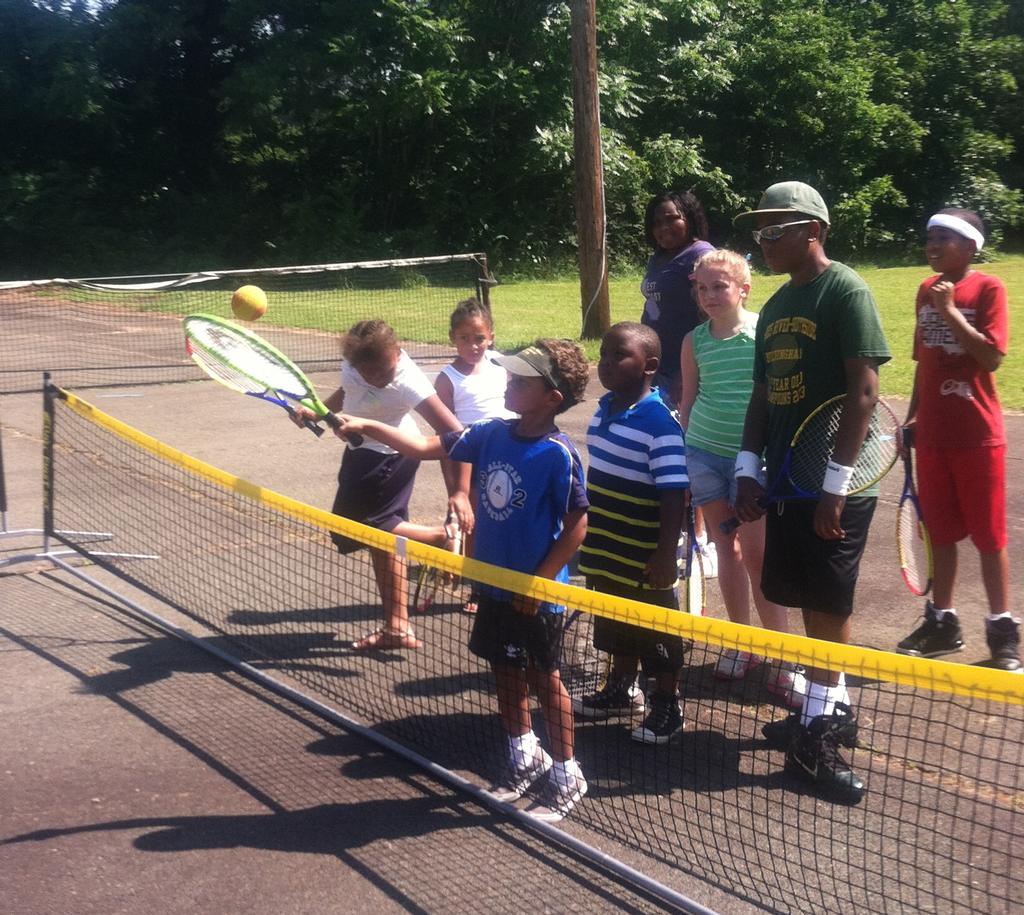 2013 summer QuickStart programming at Ellis Acres was held in June. High School Coach Erin Lake taught for the fourth year! Eight kids participated.