Jump Start QuickStart in Henry County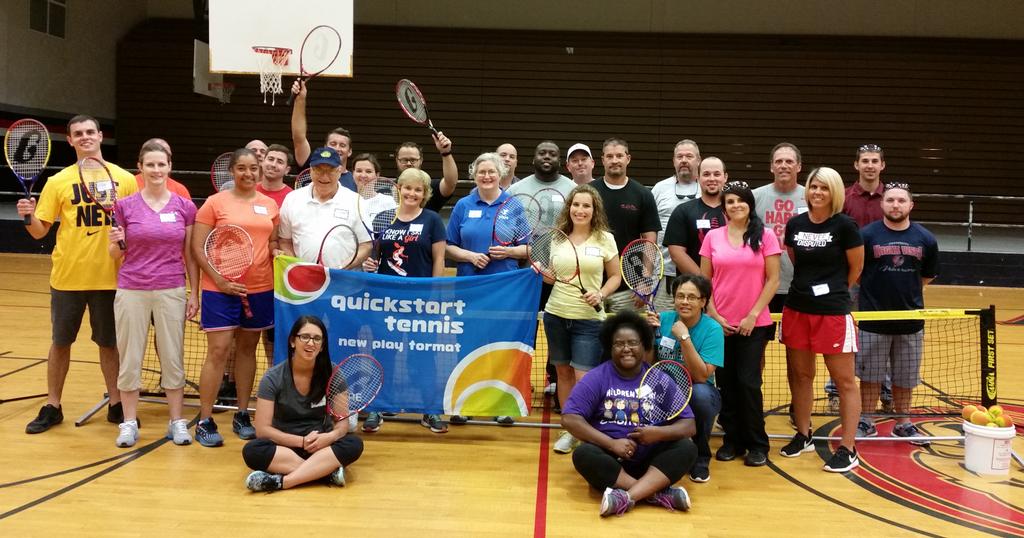 Training for Henry County & Martinsville - June 2016
Henry County is QCV's 25th county and 27th community served. There are 10 public elementary and two middle schools with 5,300 students spread over 382 square miles in the county of 54,000 residents. There are tennis courts at both high schools and four lighted courts at Collinsville Jaycee Park. The varsity tennis coach at a local private school (Carlisle) serves as an instructor for Henry County Parks & Recreation. Near Carlisle School is Chatmoss Country Club which has six outdoor courts and three indoors. Unlike many counties we serve, there are several public tennis facilities.

A joint training session for PE teachers from Henry County and the City of Martinsville and community members was held in June 2016 with 27 total participants. All elementary and middle school PE teachers participated. Two schools -- John-Redd Smith Elementary in Henry County and Albert Harris Elementary in Martinsville were presented with a set of equipment after the session. Schools will share until all can be equipped.

Local USPTA-certified tennis professional, Rusty Lovell, partners with Henry County Parks & Recreation to hold tennis camps at Jaycee Park and visits PE classes to train teachers and introduce kids to a lifelong sport. In addition, he hosted a high performance clinic on the indoor courts at Chatmoss during the fall and winter.

Our Jump Start QuickStart model is train, equip and support schools and other youth-centric organizations that incorporate kid-sized tennis into the curriculum and/or enrichment activites. We provide free training and raise funds to buy equipment. We try to remove all barriers to entry for schools and youth organizations. We want to get kids moving and learning a lifetime sport. A racquet in every hand! A smile on every face!
Project Budget
It costs ~$650 to purchase 36 racquets, two portable nets and six dozen balls for one site.

12 Henry County schools $ 7,800 36 racquets, two portable nets and six dozen balls for each site
13 curriculum guides 520 USTA School Tennis Curriculum kit
Carlisle School 650
Parks & Recreation 650 One site
Boys & Girls Club 650 One site
Total $10,270

Equipment funded by:
Contributed by QCV ($1,950) John-Redd ES, Sanville ES, Laurel Park MS
Amy Lampe, Donor ($ 650) Mount Olivet ES
The Harvest Youth Board ($4,140) Carlisle School, Carver, Drewry Mason, Rich Acres, Stanleytown ES
Fieldale-Collinsville MS and 11 curriculum kits
The Titmus Foundation ($1,300) Campbell Court ES, Axton ES
To be funded $ 2,230

If you would like to help us get kid-sized tennis going in Henry County, please email: quickstartcentral@comcast.net